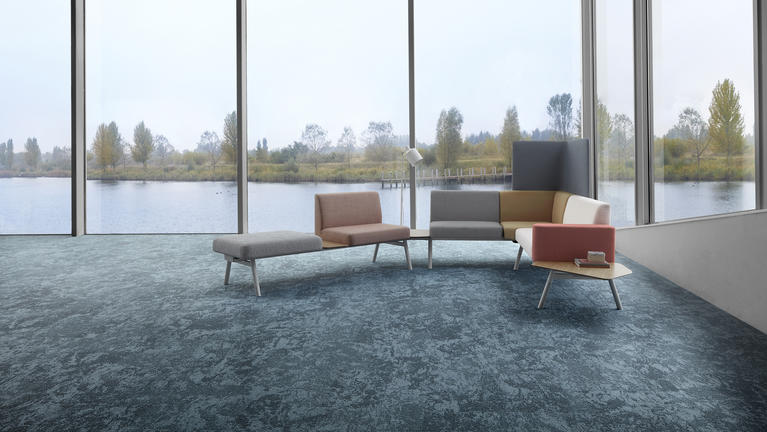 On average, people spend 90% of their time indoors. But indoor air can be 2 to 5 times more polluted than outdoor air, and with indoor air quality dominating workplace concerns, now is the time to act.
Breathing clean air is vital to human health
Breathing clean air is a fundamental human right. Yet air pollution is a growing risk to people's health, causing 7m deaths annually, according to the World Health Organization (WHO).1 When we think about air quality, we tend to imagine city smog, heavy industry or streets polluted with car exhaust fumes.
But indoor air quality is just as important, if not more so, because we spend 90% of our time indoors. Tiny, invisible particles called particulate matter (PM), also known as particle pollution or fine dust, play a determining factor in the air quality of homes and workplaces, and are directly linked to health risks.2
Particulates with an aerodynamic diameter of 10 μm or smaller (PM10), in particular, can contain microbial contaminants, such as mould, pollen and allergens,4 which can lead to respiratory problems and allergic reactions. They can also affect the heart and lungs, causing serious physiological problems.
Taking action to improve indoor air quality is vital to contributing to human health and wellbeing, now and in the future.
Understanding particulate matter
The particulate matter we breathe in our homes and workplaces can be
grouped into two categories:
PM10
Particles with an aerodynamic diameter of up to 10 μm4– these can cause health problems because they are typically small enough to pass through the throat and enter the lungs.5
PM2.5
Fine particles with an aerodynamic diameter smaller than 2.5 μm – these can produce harmful effects on the respiratory and cardiovascular system.
How does particulate matter enter the body?
Particulate matter enters our respiratory (lung) system through the nose and throat.
Larger particulate matter is eliminated through coughing, sneezing and swallowing.
Smaller particulate matter can penetrate deep into the lungs, travelling all the way to the alveoli, causing lung and heart problems, and delivering harmful chemicals to the blood system.
Proven effectiveness in clearing the air
DESSO AirMaster is the first product in the world to be awarded the GUI Gold Plus label, the highest possible accreditation awarded by Gesellschaft für Umwelt- und Innenraumanalytik (GUI), Germany's leading independent air quality testing organisation.
Scientists at GUI's laboratory measured DESSO AirMaster's ability to reduce fine dust concentration, conducting 15 tests in three test rooms, each furnished with different flooring solutions (smooth floor, standard loop pile carpet and DESSO AirMaster).
The result?
DESSO AirMaster is 8 times more effective at capturing and retaining fine dust than smooth flooring solutions (PM10). It is also 4 times more effective than standard carpet solutions (PM10).6 Already in 2010, this alone led to a GUI Gold label as the first product in the market, followed by the GUI Gold Plus label in 2015.
The Gold Plus label was awarded for high performance on three further test criteria:
Suitability for allergy sufferers
High fine dust binding capacity
Low Volatile Organic Compound (VOC) emission properties.7
DESSO AirMaster® laboratory test
The GUI Gold label has been awarded based on the average of 15 repeated tests in which the excellent fine dust capturing performance of DESSO AirMaster was measured, to safeguard that the results are scientifically sound and not just based on a one-time performance. During some tests, DESSO AirMaster proved to be up to 20 times more effective in capturing and retaining fine dust than smooth flooring solutions.
DESSO AirMaster laboratory test (median values)
DESSO AirMaster is 8 times more effective in capturing and retaining fine dust than smooth flooring solutions.
With DESSO AirMaster the concentration of particulate matter drops significantly faster than with smooth flooring.
With smooth flooring the amount of airborne particulate matter stays consistently higher than the peak level of DESSO AirMaster.
DESSO AirMaster® is Cradle to Cradle® Silver level-certified
For Tarkett, developing carpets that help to contribute to improving people's health and wellbeing and protect the environment is central to both our innovation strategy and our longstanding Cradle to Cradle® commitment. Today, the entire DESSO AirMaster range is Cradle to Cradle® Silver level-certified, with EcoBase™ backing as standard.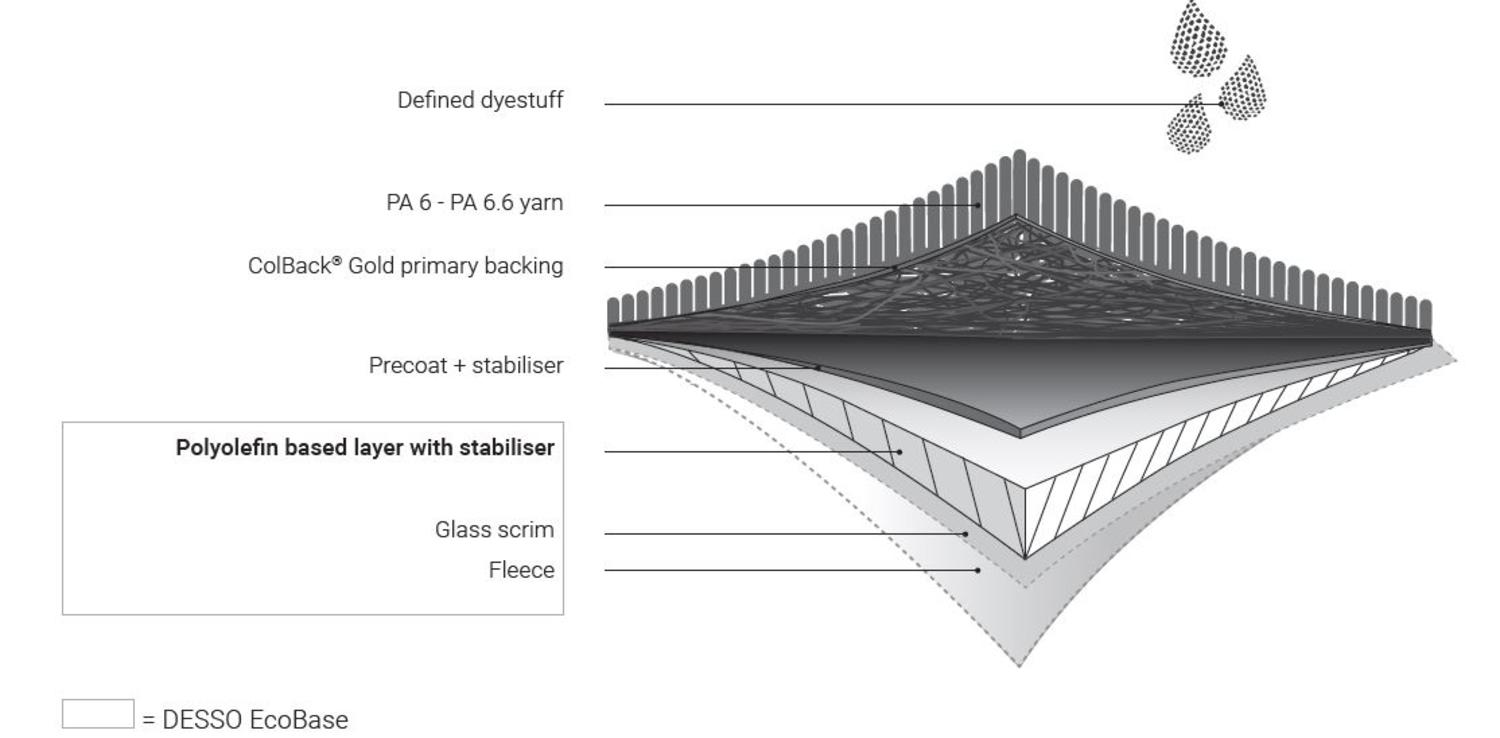 We live our Cradle to Cradle® vision in multiple ways:
– DESSO AirMaster collections contain 100% regenerated ECONYL® nylon yarn, made from recovered waste materials such as end-of-life carpet yarn and discarded fishing nets.
– Every DESSO AirMaster carpet tile features a primary backing, Colback® Gold,7 with up to a 95%9 decrease in antimony content, helping to preserve finite antimony reserves and promote safer tile recycling.
– All AirMaster products are made with Cradle to Cradle® Gold certified DESSO EcoBase® backing, made from 100% positively10 defined ingredients.
– DESSO EcoBase is 100% recyclable in our own production process and contains a minimum of 75% recycled chalk from the local drinking water industry.11 In 2015, the DESSO EcoBase backing achieved Cradle to Cradle® Gold level certification and reached Platinum level for Material Health.
– ReStart® is our take-back programme for post-consumer carpet tiles. Upon return, carpets are processed using our carpet recycling facility which separates the yarn and other fibres from the backing.
– In 2019, we took another step on our journey. Launching a new AirMaster collection with a Cradle to Cradle® Gold-level certification and the same unique fine dust-capturing functionality offered by all DESSO AirMaster collections, AirMaster Gold goes a step further in creating a healthier workplace and a more sustainable world.
---
1. World Health Organization, total number of deaths caused by ambient and indoor air pollution in 2012.
2. World Health Organization Air quality guigelines for particulate matter, Global update 2005
3.  Pima County, Department of Environmental Quality
4. μm symbol represents a micrometre; one thousandth of a millimetre.
5. World Health Organization Air quality guidelines for particulate matter, Global update 2005
6. Based on tests performed by GUI with DESSO AirMaster versus a standard smooth floor and versus standard structured loop pile carpet (median values).
7. (ISO 16000 test analysis, according AgBB evaluation scheme 2010 and in accordance with GUT emission criteria).
8. Colback® Gold delivers the same the same high performance as our previous primary backing with up to a 95% decrease in antimony content.
9. In comparison with standard non-woven primary backing.
10. Positively defined means all ingredients have been assessed as either Green (optimal) or Yellow (tolerable) according to the Cradle to Cradle® assessment criteria. As described in Cradle to Cradle® CertifiedCM Product Standard Version 3.1.
11. Lloyd's Register assured the EcoBase backing as 100% recyclable and the chalk as 100% pre-consumer recycled material.