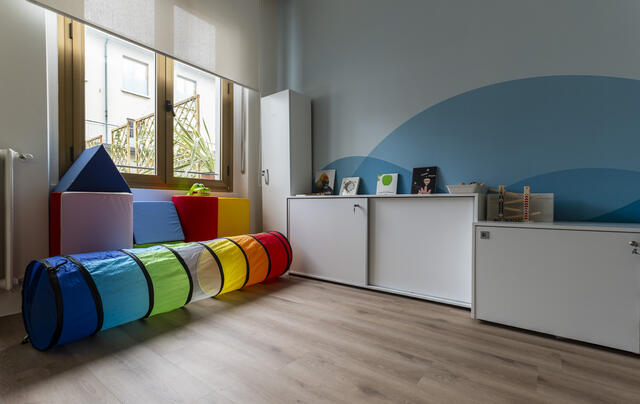 Welcomed
2023 | Milan, Italy
Welcomed, is the new medical centre in Milan and it consists of 2 floors with 17 clinics, a gym and a family space. The headquarters of the new building is located in Via degli Olivetani and was partially built from the historic building, Fondazione Istituto del Buon Pastore in Via San Vittore in Milan.
The design is inspired by shapes and colours that imitate the world of play and fantasy with an approach aimed at generating well-being and tranquility, not only for patients, but for all collaborators and medical staff.
The entire 700 square meter surface was installed with Tarkett's iD Click Ultimate collection in a warm-toned oak decoration, which in addition to creating a welcoming environment, guarantees maximum surface resistance and durability. Ideal for heavy traffic areas, it also helps to improve indoor air quality thanks to very low VOC emissions.
From January to June 2023, the medical centre invited over 100 specialists from the pediatric, orthopedic, cardiology, ophthalmology and other departments, in order to provide 6,887 free appointments — 70% of which were for minors. Encouraged by this initiative, the architect selected for this project, Matteo Montervino of C+M Partners, created a space dedicated mainly to children that was inspired by the humanization concept of healthcare facilities.
Making conscious choices. For people and planet.
Tarkett Human-Conscious Design®.
About
Discover Welcomed the new medical centre in Milan, Italy covered in Tarkett's iD Click Ultimate collection, creating a warm and welcoming space.
Designer/ Architect
Arch. Matteo Montervino di C+M & partner