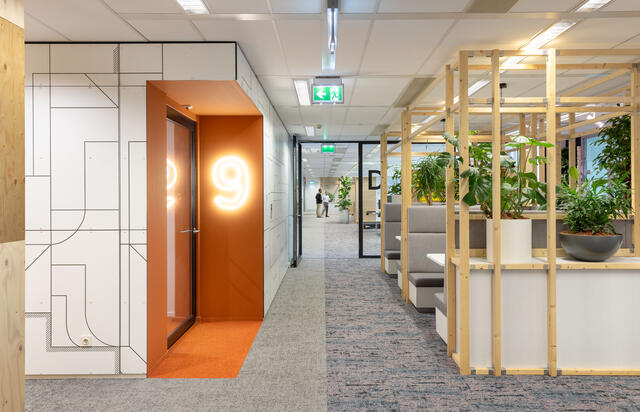 Nationale Nederlanden
2023 | Netherlands
The 100% circular, sustainable renovation project of two office buildings, using approximately 36,000 square meters of Tarkett floor coverings, was presented with the WELL Platinum award.
Nationale Nederlanden (NN) is ambitious when it comes to health, well-being and circularity. With its latest renovation, it achieved the highest WELL certificate, the WELL V2 Platinum. For this project, the organization selected suppliers who have an active sustainability policy – Stevens van Dijck, De Kruijff Projectstoffering and Architect Fokkema & Partners (especially known for their Zero Waste objectives).
Circularity is key!
The WELL is a certificate that awards buildings that provide healthy spaces for people.
In order to receive this certificate :
all interventions for this renovation were carefully thought out

sustainable and non-toxic materials were used

water taps, a lot of greenery, circadian lighting lamps and logical zoning were integrated into the building.
NN mostly used circular materials for the Delftse Poort and Haagse Poort renovations.
The new working environments consist of 89% recycled material.

The furniture and floors have been reused as much as possible.

The amenities and equipment was supplemented with recycled products.
These and other initiatives ensure that NN continues to reduce CO2 emissions.
Tarkett's Reuse & ReStart® Programs
At Tarkett, circularity is also the starting point for reducing CO2 emissions. In addition to reducing greenhouse gases, a circular approach also aims to reduce the waste mountain and the use of new raw materials. This is why, Tarkett's reuse program extends the use phase of carpet tiles and minimizes the carbon footprint.
The NN renovation project reused various DESSO carpet tile collections and returned the carpet tiles that were not suitable for reuse through Tarkett's ReStart® take-back and recycling program.
Extending Tarkett's Floor Covering's lifespan
Much climate improvement can be gained in the construction sector with a circular and sustainable approach, since the construction sector accounts for 40% of greenhouse gas emissions and 60% - 70% of the total waste mountain. Circularity is known to be the most efficient method. Collaborating with end users, architects, flooring companies and Tarkett's ReStart® partners ensures a more sustainable approach, in which materials are used more sensibly and as a result reduces the ecological footprint.
Making conscious choices. For people and planet.
Tarkett Human-Conscious Design®.
About
Read more about a sustainable, 100% circular renovation project using 36,000 square meters of Tarkett's floorings.
Designer/ Architect
Fokkema & Partners B.V.