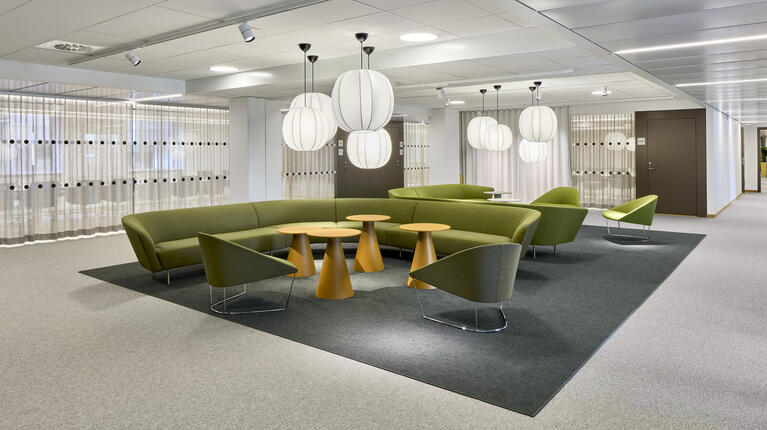 Stakkeverket
2022 | Stockholm, Sweden
In April 2022, the Swedish Tax Agency, Stakkeverket, inaugurated its newly renovated office buildings in Nya Kronan, providing 3,000 employees with a workplace that now supports their new way of working. Nya Kronan consists of three buildings, with a total of 45,000 square meters, that are equally separated into either desk space or other types of work spaces, such as shared work rooms, meeting rooms or project areas.
One of the buildings' concrete frame was not touched, however it was partially renovated with recycled materials, while the other two buildings were completely rebuilt. Solar panels, sedum green carpets and a geothermal energy system were all installed making the entire property self-sufficient.
Thanks to the eco-friendly and innovative methods used during the renovation, the buildings are LEED Platinum certified, which is the highest level of the most established sustainability rating system available today.
The architects selected two Tarkett floorings – DESSO Linon and Essence. DESSO Linon was installed in the 600 meeting rooms, giving each space an exclusive and luxurious feel, while DESSO Essence (in a light brown colour) was installed in the other work areas. DESSO floors are sustainable, contribute to a lower noise level and reduce the concentration of fine dust indoors. Lastly, the installation costs were kept to a minimum since the textile floors were quickly and easily installed.
"It was a big project with an unusual amount of creative freedom. We were a small working group with a lot of access to the property throughout the renovation process, so we were able to make quick decisions. We are very happy with the results and the whole creative process in general." 
Anna-Kersti Ericson and Joakim Leufstadius, Interior architects.
Photos: Federico Covre 
Making conscious choices. For people and planet.
Tarkett Human-Conscious Design®.
About
Discover the newly renovated Swedish Tax Agency in Sundbyberg, Stockholm covered in Tarkett's DESSO Essence and Linon floorings.
Designer/ Architect
Anna-Kersti Ericson and Joakim Leufstadius
Contractor
Skanska, Veidekke