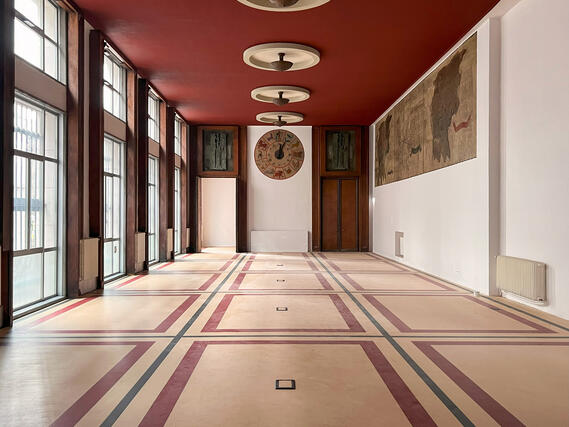 Palazzo della Libertà
2023 | Bergamo, Italy
After years of being closed to the public, with the exception of the cinema auditorium, the Palazzo della Libertà finally reopened in April 2023. The event that launched this historic moment, was an art exhibition organized by the Bergamo Brescia Capital of Culture program. For the occasion, the entire showroom on the ground floor was fully renovated with Tarkett's Linoleum.
Composed of 97% natural raw materials, Tarkett's linoleum floor coverings guarantee longevity and durability. Thanks to the exclusive xf2 surface treatment, they are also very easy to clean and maintain, and are highly resistant to heavy foot traffic. The colours Eggshell, Raspberry and Graphite were chosen from the Veneto collection, for the design of the floors.
The entire installation process was performed by Pavimenti Nobili who took care of every detail during the installation, especially the floor levelling phase for the glue installation of the flooring.
Making conscious choices. For people and planet.
Tarkett Human-Conscious Design®.
About
Discover how Tarkett's Linoleum Veneto installed in a modern and graphic pattern, in 3 colours, transformed the Palazzo della Libertà.