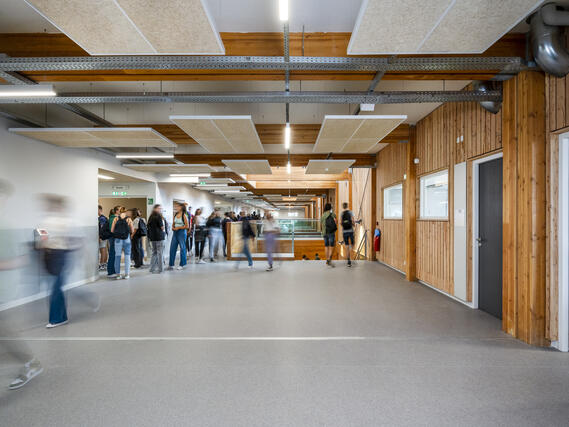 Aizenay High School
2023 | Aizenay, France
Last September, the newly constructed Aizenay High School in Aizenay, France, finally opened its doors, bringing to life the aspiring and ambitiously environmental and architectural school project.
This architectural endeavor took two years to finish. The low-carbon structure was designed, using a construction method applied only in France and 80% of the energy required to build the school came from wood pellets. The school received the E3C1 label, thanks to its energy performance and low-level carbon emissions.
The colours selected for each area in the school were as follows:
Neutral colours for the classrooms, encouraging pupil concentration.

Different colours for the staircases, facilitating orientation.

Bright colours for the work rooms, creating identity.
The Linoleum Tarkett flooring was selected for its bio sourced characteristics, its acoustics, its comfort, easy maintenance and 100% recyclable materials. The iQ Natural collection was also selected for its resistance to heavy foot traffic and humidity and therefore preferred in certain areas where there is a lot of coming and going and is frequently exposed to light and moisture. The environmental and acoustic qualities of the Desso carpet collection strongly influenced the choice to install the flooring in spaces where good acoustics is very important, such as the amphitheater.  
Tarkett was very proud to be a part of the eco-friendly Aizenay High School project and apply its Human-Conscious Design approach, where designing products that contribute positively to the environment and the well-being of people is a number-one priority.
Photographer: Briag Courteaux
Installer: Vinet (Aytré- France) 
Making conscious choices. For people and planet.


Tarkett Human-Conscious Design®.
About
Read about Tarkett's contribution to the newly constructed Aizenay High School, awarded for its energy performance and low carbon emissions.
Building owner
Région des Pays de la Loire