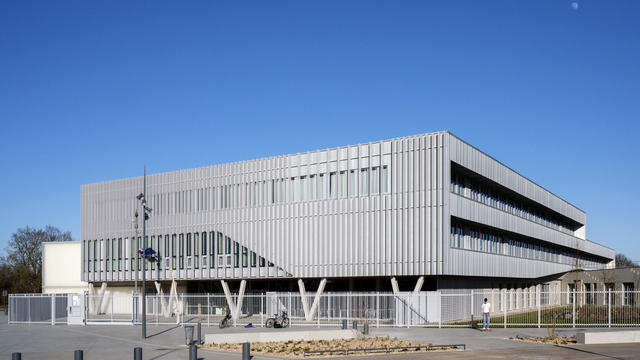 Caroline Aigle Public High School
2021 | Nort-sur-Erdre, France
Tarkett France provided the linoleum flooring for the recently renovated high school in Nort-Sur-Erdre. The architect Céline Leduby of AIA Life Designers used a particularly innovative environmental approach to redesign the building.

The newly renovated and innovative multipurpose public high school in Nort-sur-Erdre
It is now recognized as a level three bio-sourced building, since all the materials used to redesign the building were largely derived from natural resources. Consequently, it received the NF HQETM certification, recognizing high environmental performance, as well as excellent health and safety standards.
The 4.0 high school offers a range of general, technical and professional courses to around 1,000 students and its modular spaces make new educational courses, including digital technology, possible. It is designed to be flexible and scalable, so the common spaces like the amphitheater and the restaurant, as well as areas for relaxation, discussion and work were redesigned with alcoves and furnished with comfortable lounge equipment.
Laying the groundwork for a greener future
Céline Leduby explained that Tarkett was an obvious choice for the school's flooring, because its linoleum flooring easily met the team's environmental commitments.
"Since Tarkett's linoleum is made of 90% natural and 30% recycled materials, it was in line with our goal of using only bio-sourced, geo-sourced and recycled resources. Along with the other materials we chose, the flooring contributed to the indoor air quality, which is one of the criteria of the NF HQETM certification."
Tarkett is proud of its high-grade, sustainable flooring, since it is contributing to a greener future, without sacrificing quality.
Photographer: Briag Courteaux
Making conscious choices. For people and planet.
Tarkett Human-Conscious DesignTM.
About
Discover the public high school in Nort-sur-Erdre, where our Linoleum range was perfectly in line with the innovative environmental approach of the project.
Designer/ Architect
AIA Life Designers