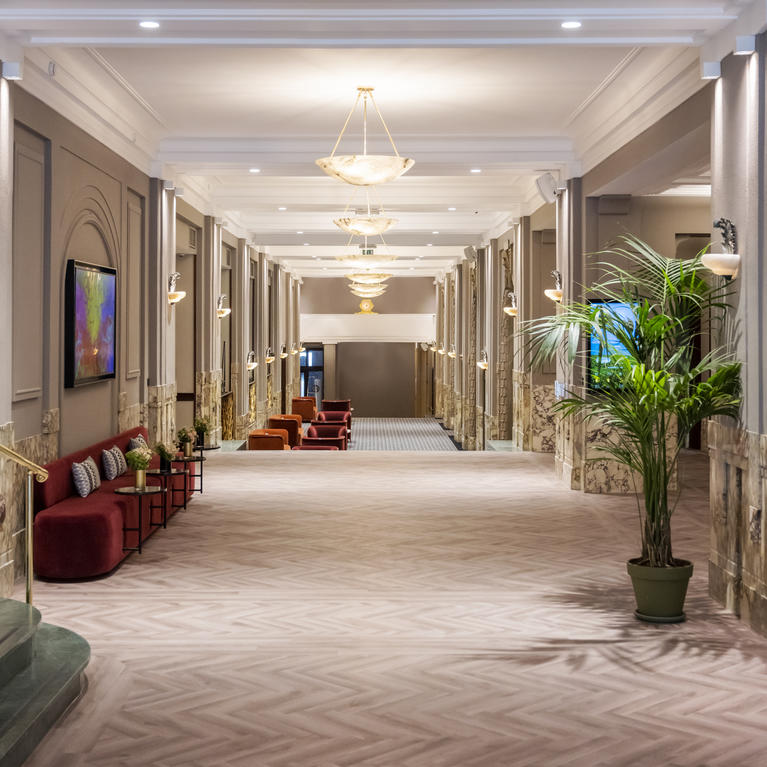 DoubleTree by Hilton
2021 | Brussels, Belgium
The DoubleTree by Hilton Brussels is an eight-story hotel, located minutes away from the city's top attractions. Built in 1910, it is an art deco landmark, owned and operated by Pandox since 2003. The completely renovated and refurbished hotel has 354 rooms and suites, all of which have an authentic yet modern look, with bold and playful design details.
Tarkett was selected to supply the floors for this luxury hotel, thanks to its expertise in co-creating unique designs and formats. The public areas of the hotel are covered in custom-made, art deco style herringbone floors, constructed with luxurious vinyl tiles from the iD Inspiration collection. The hallways are covered with custom-designed DESSO Axminster carpets.
The DoubleTree by Hilton Brussels contributed to the circular economy by sending its used carpets to be recycled in Tarkett recycling centre in Waalwijk– 20,690 kilograms, approximately 8,200 square meters. Furthermore, the hotel collected and sent its vinyl installation off-cuts to the factory to be recycled and reused in the production of vinyl floors through Tarkett ReStart® take-back and recycling programme,. Nothing goes to waste.
DoubleTree by Hilton Brussels makes it clear that sustainability is just as important as hospitality.
Making conscious choices. For people and planet.
Tarkett Human-Conscious Design®.
About
Discover the newly renovated of the DoubleTree by Hilton Brussels hotel, covered in Tarkett's ID Inspiration and DESSO Axminster carpet floorings.