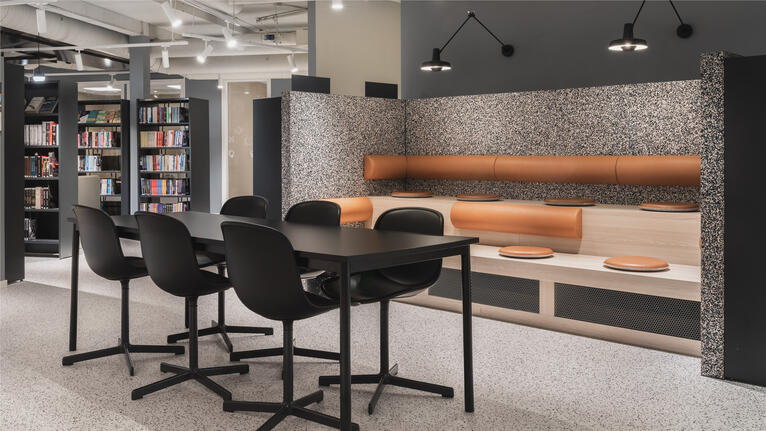 Halden Bibliotek
2022 | Halden, Norway
A home away from home
Designing a library in a building that hosts many different spaces, such as municipal authority offices, cinemas, cafés and youth clubs is a complex challenge. For the architects, the project involved designing the various rooms and departments so that they felt inclusive and playful for the users, while being able to withstand use and wear. Interior architects Irèn Abrahamson and Tine Haaland-Paulsen from Pil.id had their plans ready from the start.
"We wanted to create something new for the residents of Halden. Kind of like a home away from home— a place that they could look forward to using as a natural part of their everyday life."
Tine Haaland-Paulsen
No compromise on the playful design
The finished library is composed of tailor-made and well thought out spaces, with unique, built-in furniture and small, cozy areas that create a calm environment for reading and learning. Both floors of the library are covered in Tarkett's recyclable iQ Surface vinyl flooring, with a durable and easy-to-maintain surface.
"We chose to install the iQ Surface vinyl floor covering in different colours throughout the library in order to create contrasting and clear zones for each separate space. This technique is both playful and budget-friendly, and gives the furniture some character."
Tine Haaland-Paulsen
Intergenerational meeting place
The number of visitors, especially students, has increased since the opening. It is reassuring to know that the younger generations are showing more interest in the town's new meeting place.
"The library's rooms and surfaces are extensively used throughout the day. People enjoy using a library with happy colors and that is pleasant to spend time in. The Halden municipality trusted us from the start and we were excited to create a space that caters to all generations, so that everyone can find their place."
Tine Haaland-Paulsen
Making conscious choices. For people and planet.
Tarkett Human-Conscious Design®.
About
Read about the calm, yet playful atmosphere of the new Halden library covered in Tarkett's iQ Surface vinyl floors.
Designer/ Architect
PIL Interiørarkitektur & Design