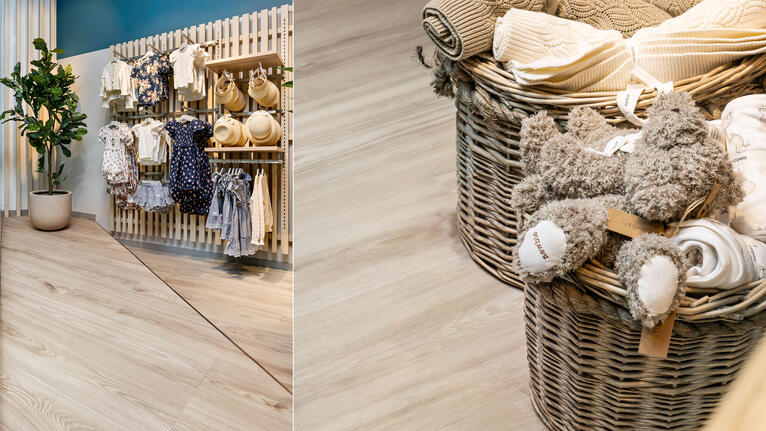 Kappahl Kids
2023 | Stockholm, Sweden
Scandinavian simplicity
It was a challenge to find the right décor that speaks to both young children and teenagers.
Therefore, it was not an easy task to create Kappahl's concept clothing store, located in Liljeholmstorget, Stockholm, when it was newly renovated for both children and young adults.
"We had to consider what is appealing for each age group – from kids to teenagers. So we decided to create a calm atmosphere, where children's clothes, often colourful and patterned, can fit in with teenage clothes, often neutral in colour."
Elin Lemchen, Architect and Concept Developer, Kappahl
The final concept - Scandinavian, playful and simple - was created by Annette Nilsson and Elin Lemchen, Interior Design Concept Developers and Specialists. They created a soft and inviting atmosphere that is neither too childish nor too mature, with details, that speak to both target audiences.
LVT flooring for a quick and easy installation
Tarkett's LVT collection was selected for the Kappahl clothing store. More specifically, the Brushed Elm Grege from the iD Inspiration 55 range was used for the space. The floorings were installed by Entreprenadsystem, who have been laying floors in shops since 1986 and who have experience working with other products from Tarkett's iD Inspiration 55 collection. They have excellent craftsmanship, but they are known for their flexibility and collaborative spirit.
"iD Inspiration 55 is a high-quality flooring at a good price. It has a durable surface layer, so scratches and wear are minimally visible. It is easy to lay and easy to maintain, and in the event of an accident, easy to repair. And we love the matte surface!"
Annette Nilsson, Interior Design Concept Developer and Specialist
Making conscious choices. For people and planet.
Tarkett Human-Conscious Design®.
About
Discover Kappahl Kids – a new store concept for children's clothing – and how Tarkett's LVT flooring contributed to the ambiance of the space.
Designer/ Architect
Kappalh Inhouse / Store Concept
Contractor
Entreprenadsystem