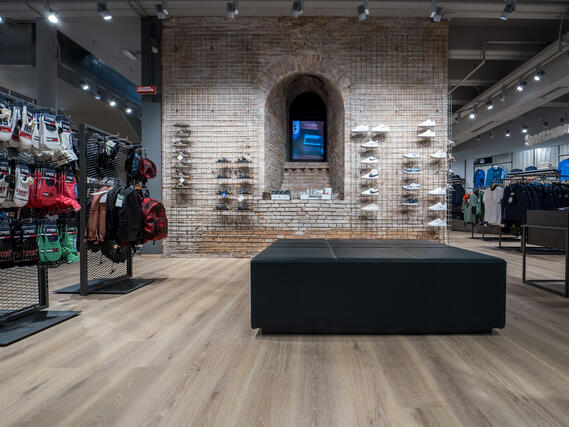 Sportler Store
2023 | Albignasego (PD), Italy
Sportler is a sports boutique in Albignasego, Italy that sells top-brand technical sportswear, footwear and sports equipment for different types of sports and outdoor activities. It was recently renovated and expanded, giving the interior a whole new look.
The flooring selected for the entire area of over 1000 square meters is a glue-down LVT flooring from Tarkett's iD Inspiration 55 collection. The chosen embossed oak colour gives the space an authentic and natural look.
The iD Inspiration 55 collection is highly resistant to scratches, stains and wear, and is therefore ideal for a sports boutique with a lot of foot traffic.
Lastly, iD Inspiration 55 is recyclable, phthalate-free and emits very low VOC emissions.
Making conscious choices. For people and planet.
Tarkett Human-Conscious Design®.
About
Read about Sportler, a sports store now covered in Tarkett's iD inspiration 55 flooring, in an embossed oak colour, enhancing the natural warmth of the space.
Building owner
Sportler Spa