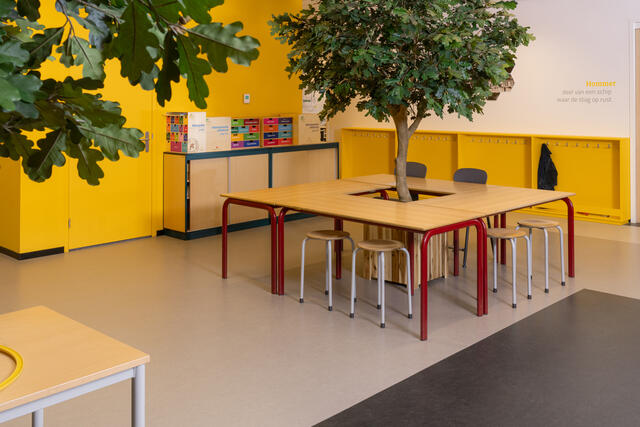 Kindcentrum Op De Elft - Children's centre
2023 | Elft, Netherlands
The old and the new come together in perfect harmony
In the new children's centre Op de Elft, two primary schools – Henricusschool and De Kei – as well as the Hollands Kroon childcare centre, are all attached. The new school building is located in the original location of De Kei and connects the old school building with the new building in a sublime way.
A large part of the old building was demolished, but the original entrance, as well as a large number of characteristic elements were kept the same and were beautifully incorporated into the new design, creating perfect harmony between the two.
The beautiful, centrally located staircase not only serves as a connection between the floors, but is also used as a podium with integrated toilets.
Challenging, attractive and stimulating environment
Tarkett's Style Emme xf2 linoleum collection was incorporated into the design of the new school building. The interior inspires exploratory thinking and creativity, and fits in perfectly with the core values of the schools. The building is very colorful, ideal for stimulating investigative behavior and creativity, and it offers a space for children to fully develop freely.
Photographer:  Jeffrey Ruesink Fotografie & Video.
Making conscious choices. For people and planet.
Tarkett Human-Conscious Design®.
About
Discover the newly renovated Kindcentrum Op de Elft, where the old and new buildings are fully covered in Tarkett's Linoleum range.
Designer/ Architect
BRT Architecten
Contractor
VLAQ Groep BV en Sarkon BV
Building owner
Kindcentrum Op de Elft