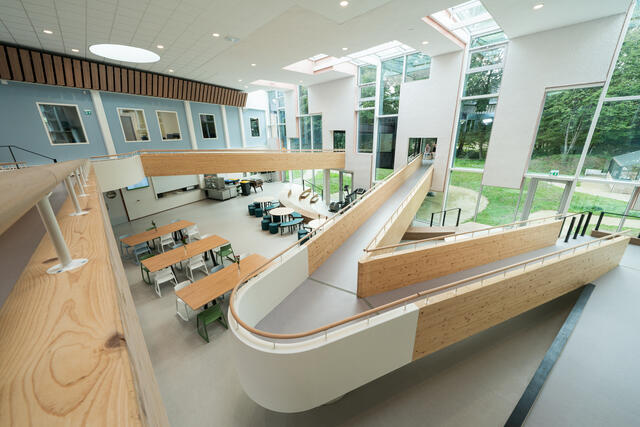 Prisma College
2022 | Arnhem, Netherlands
Clear, functional and inclusive design
The new school building of Prisma College is located in a beautiful, peaceful and green area near Arnhem, in the Netherlands. The very spacious and well-arranged hall is the heart of the school. The classrooms, practice rooms, consultation rooms and two gymnasiums are all built around this central hall, easily bringing together the different spaces and the students.
The sculptural ramp joins both floors, creating an adventurous route through the central hall. The ramp represents independence and connection, showing the students that they can follow their own path, while appreciating opposites, like the indoors and outdoors.
The school building projects a friendly and natural atmosphere, with a clear and functional design – it connects energy and vigor in the heart of the building, with tranquility and concentration in the spaces outside.
Calm and natural design
The interior design includes different colours from our Style Emme xf² Linoleum collection. The appearance and texture of the linoleum highly reflects the sunlight, which enormously contributes to the quiet and soothing atmosphere within the school.
The natural ingredients, the production process, the colours and motifs of our Style Emme xf² collection perfectly match the palette of materials used when designing the building.
100% sustainable, 100% recyclable
Tarkett's new Linoleum collections were created to respond to today's sustainable requirements and expectations.
For example, our linoleum consists of 97% natural products, can be fully recycled after use and our collections have the lowest CO2 footprint, within the entire product category available on the market. 
Furthermore, with our take-back and recycling program ReStart®, we ensure that this is done skillfully and efficiently.
Photographer: Jeffrey Ruesink
Making conscious choices. For people and planet.
Tarkett Human-Conscious Design®
About
Discover the new Prisma college where Tarkett's linoleum Style Emme xf² was installed, contributing to the natural, calm and welcoming atmosphere of the college.
Designer/ Architect
Wiersema Architecten
Contractor
Hegeman Bouw & Infra B.V.