Linoleum, a material for the future
Sustainability is one of the most significant challenges we and future generations are facing. In everyday life, each and every one of us can help to act in the interests of future generations.
The list of possibilities is long, and there are new ways to act for a more sustainable future, for example by choosing the right materials. What materials do we use in our everyday lives and where are opportunities given to us to live in a more environmentally-conscious way ?
Choosing the right flooring is definitely one of them.
Linoleum is a genuine natural floor that proves to be particularly durable, robust and timeless.
Linoleum flooring is a sustainable product with undeniable design qualities and a very large set of colours to choose from. Our Linoleum collections combine all of these advantages and boast over 120 years of creativity, high standards and innovation.
Read more about Linoleum floors and how they bring tradition and innovation together.
The history of linoleum
The history of linoleum dates back to 1860. But it was more of a chance discovery when the Englishman Frederick Walton forgot to close a can of linseed oil and found it the next day with a hardened material.
The suitability of elastic linoleum quickly proved to be a floor covering, and the material also gained in importance for the production of high-quality furniture and wallpaper.
As an international group, Tarkett looks back on the longest tradition of linoleum production.
Even today, the Narni factory, built in 1898, is in operation in the heart of Italy and meets the most modern requirements.
Mindful of the environment, we made innovative improvements in our production processes to reduce our operational impact.
As a result, Tarkett's Lino is a flooring solution that blends craftsmanship with the most advanced technology.
What is linoleum ?
Linoleum is one of the most natural and sustainable flooring solutions on the market, appreciated for its natural beauty, comfort and durability for over 150 years.
For the production of the first linoleum, linseed oil was the raw material, hence the name "linoleum": linum for glue and oleum for oil. Cork flour and jute fabric are the other two raw materials that are important in the production.
A material made of natural and renewable ingredients :
- Linseed oil
- Pine rosin
- Wood
- Cork flour
- Jute
In the Italian community of Narni, Tarkett Linoleum has been made with original recipes since 1898 and is in greater demand than ever.
Although manufacturers had to face fierce competition with PVC products in the mid-20th century, linoleum is known for its robustness, design and sustainability.
What are the characteristics of a linoleum floor ?
Linoleum flooring has a whole host of positive qualities and is inherently a resilient flooring that have proved to be very resistant.
The fact that linoleum has been used as a floor covering for more than 150 years is due to very special properties. Timelessness is one of these, which results from the long-lasting character and the variety of designs.
The raw materials for production come from renewable resources, which include linseed oil, pine resin, jute and wood and cork flour.
As a fully recyclable product, linoleum installation off-cuts can be recycled and the ingredients pose no health risks to humans or animals. Already at the time of manufacture, Tarkett pays attention to the use of regional products to minimize CO2 emissions generated by means of transport.
In addition to the environmental aspects, the floor covering proves to be extremely resistant due to its elasticity and abrasion resistance and has hardly any traces of wear. Not for nothing, for example, schools, hospitals, public institutions and companies use linoleum flooring adapted to their needs.
Another advantage of linoleum is that it naturally has bactericidal properties due to the Linoxyn binder. It is therefore a hygienic floor.
What special features does Lino by Tarkett offer ?
Caring about circular economy and users well-being
With the linoleum production tradition dating back to 1898, Tarkett strives to make high quality, sustainable flooring to help customers create healthier and people-friendly spaces.
In 2009, Tarkett took one step further in attaining this goal with new Cradle to CradleTM certification that evaluate manufacturers' efforts regarding material hygiene, reuse, improved CO2 management, use of renewable energies and responsible use of water resources as well as social fairness.
Cradle to CradleTM certification shows our efforts to eco-design better products for human health and environment and to move towards circular economy.
Tarkett's linoleum has been assessed for its impact on people's health and the sensitization in particular and received third-party endorsements, such as the Material Health Statement (MHS) or Allergy UK seal of approval.
Caring about creativity and design options
The design is just as important as the more technical aspects of Linoleum. In our own design lab, colour and product ranges are constantly being expanded and adapted to customer needs.
113 colours and 7 different designs offer a large range of options that adapt to any room concept, from floors to walls.
Caring about durability, quality and performance
Linoleum is produced by Tarkett in seven steps and undergoes strict quality controls before delivery. Special surface finishes reduce the maintenance effort and also increase the life cycle.
From the extraction of raw materials through production to installation, sustainability is taken into account.
Linoleum from Tarkett is valued all over the world and so the products have already received many awards that confirm its quality.
Linoleum is a stylish and creative material
Since Linoleum was created, designers have renewed the colours and designs of our collections.
Drawing on on-going trends analysis and colour expertise, our ranges have been developed through consultation with architects across the world at every design phase. It has enabled to perfect the right combination of colour, balance and structure for each design concept, meeting the ambitions of any architectural project.
At Tarkett, this richness of facets extends to 7 designs. These include both patterned and plain linoleum floors.
All the more remarkable, however, is the variety of colors. There are 113 different colours to choose from. From classic to contemporary patterns, there is everything that can be combined with bright, dark or natural colours.
For projects looking for a more individually customised design or colour, Tarkett offers a dedicated Floorcraft customisation service, ready to translate your ideas into unique flooring concepts.
Why is Lino by Tarkett so sustainable ?
Tarkett Linoleum is sustainable right from the start, first with our innovative manufacturing process. Through installed systems such as heat exchangers or photovoltaic systems, we are able to reuse thermal energy.
In addition, all of our production standards are designed to either recycle resources or to reuse all waste generated through upcycling.
Tarkett's linoleum flooring is Cradle to Cradle® certified and has been awarded the "Blue Angel" eco-label and the "Austrian Eco-label".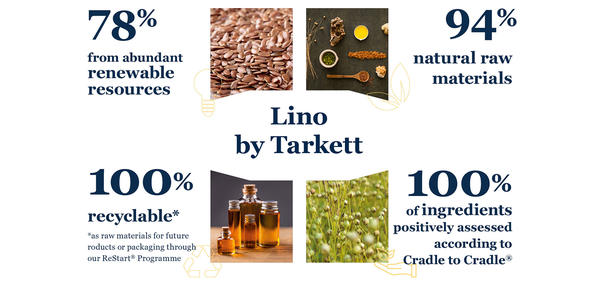 How is linoleum produced ?
The basic composition of linoleum is very simple. Linseed oil, jute and cork flour are sufficient here. Limestone, wood flour and natural resins and dyes complete the scope of possibilities.
Tarkett Linoleum goes through several manufacturing stages to produce a strong and attractive base material. First, the oxidation of pine resin and linseed oil, which are mixed for 24 hours under air supply. This results in linoleum cement, which is designed after cooling and cut into pieces.
This is followed by the production of linoleum granules, a mix of cork and wood flour, recycled linoleum, limestone flour and pigments into the cement.
The resulting linoleum granules now enter a laminator, which presses everything flat. If quality and colour match after a test swab, the production will take place in larger quantities.
The finished linoleum covers now have to be dried. This step takes at least 20 days and provides the resilience and flexibility of the material.
But before the final release takes place, the surface gets a protective layer.
Finally, the quality control, in which both the thickness and the total substance are thoroughly checked again.
Can linoleum be recycled ?
Tarkett linoleum is 100% recyclable, with ingredients certified by the Cradle to Cradle® Environmental and Health Directives. For example, recycled materials are also used in production in order to conserve valuable raw materials and thus improve the CO2 balance.
Installation offcuts can be collected and recycled through Tarkett's ReStart® take-back and recycling program.
For the sake of the environment, Tarkett strives for the smallest possible production cycles, drawing on regional raw materials in particular.
What is our linoleum carbon footprint?
A Tarkett, we're continuously optimising the carbon footprint of our products – throughout their lifecycle. Let's take Tarkett 2.5 mm Linoleum, this flooring is carbon negative from 'cradle to gate', including raw material extraction, transportation and Linoleum production. This means it removes 0.58kgCO2eq from the atmosphere per square metre produced.
How is that possible? This is primarily due to our use of natural and recycled materials like Linoleum powders, wood and cork flours. We also produce our own renewable electricity on site as well as biomass thermal energy, leveraging solar and geothermal power and optimising energy efficiency throughout our manufacturing operation.
The use and maintenance phase is also nearing carbon neutrality, given our Linoleum is designed from the outset to require only gentle maintenance (with less need for vacuuming and other electrical maintenance equipment).
Additionally, it requires no wax or polish throughout its useful life.
Also, through our ReStart® take-back and recycling programme, we recapture your post-installation Tarkett Linoleum and give it a new lease of life in new Tarkett flooring.
Linoleum floors for specific applications
There are different versions of linoleum that are specially designed for specific applications in commercial spaces.
| | |
| --- | --- |
| Flooring applications and properties | Description |
| | |
| --- | --- |
| | Non-slip floor coverings ensure a secure fit and are the ideal solution for areas where increased slip resistance is required, such as in entrance areas. |
Static charges occur wherever different materials rub against each other. In sensitive areas, this leads to problems, especially in rooms containing technical equipment. With conductive Linoleum floors, voltage disturbances can be avoided.
Durable, physically conductive and dissipative floor coverings provide a flexible, high-performance solution to provide security in sensitive environments such as server rooms and other spaces with electronic equipment.
Good impact sound insulation

Acoustic floors or acoustic linoleum provide good footfall sound insulation and increased comfort.
Sound insulation is an essential criterion in building construction planning, increased noise reduction is a common requirement. Nowadays, a pleasant interior design takes into account both acoustic and ergonomic comfort. This is especially recommended for noise-intensive corridor areas, for example in schools or retirement and nursing homes.
Silencio and Veneto Acoustic are specifically acoustic floors, but all our Linoleum floors can be installed with our Elafono (a 100% natural underlay corkment) for better impact sound reduction.
You also have the option to choose between different thicknesses, colors and designs for linoleum floors.
Conductive linoleum floor coverings are particularly suitable for computer systems.
It is also possible to decide between skid resistance levels, abrasion resistance and impact sound insulation, right through to the use of double floor elements.
Where to lay linoleum ?
In addition to the environmental aspects, the floor covering proves to be extremely resistant due to its elasticity and abrasion resistance and has hardly any traces of wear. Not for nothing, for example, schools, hospitals, public institutions and companies use linoleum flooring adapted to their needs.
Linoleum can be installed in a large variety of applications, mainly where resistance to high traffic and hygiene is required, such as education or healthcare facilities.
Among the most well-known customers of Tarkett Linoleum is the Charité in Berlin.
The city's oldest hospital is also one of the largest university hospitals in Europe. At around 34,000 m², the linoleum floor produced by Tarkett contributes to hygiene and is extremely resistant to medical chemicals.
These advantages are also appreciated by the Erasmus Kindergarden in Frankfurt.
In natural surroundings, the children can crawl to their heart's content. The floor is not only hygienic and durable, but also flame-retardant according to fire class Cfl-1, which also benefits the safety.
Also have a look at the futuristic and sustainable Bordeaux Métropole Arena.
Tarkett linoleum is part of the design of the Bordeaux Métropole Arena and contributed expertise on sustainable flooring solutions suited for high traffic areas that welcome large numbers of people every day.
Installation & maintenance
How to lay linoleum ?
What is important is a clean, dry and level surface. Before the work begins, the flooring must adapt to the indoor climate. The material should be stored in the premises for at least 24 hours at best.
To get the desired grip, you need to use the right adhesive. Linoleum is glued over the entire surface, creating a continuous level without joints and edges. Accurate measuring helps to cut the tracks to be laid in advance.
Tarkett offers comprehensive tips and brochures on professional installation for every single design.
The installation guides and video  offer precise indications for installing different floor thicknesses, designs and equipment
How to clean linoleum ?
Linoleum floors are among the most easy-care surfaces and can be cleaned easily and cost-effectively. A decisive advantage is their full-surface bonding, with which a continuous flat surface is created.
After the floors are cleaned of coarse dirt, normal cleansing agents that are added to warm water are sufficient. However, aggressive substances with a high ph value should be avoided. The use of a polishing machine is recommended in commercial applications. This improves the appearance and facilitates the maintenance cleaning significantly.
In the long term, it is advisable to use special linoleum cleaner that is best suited to the material. Modern day-room cleaning aims to reduce wet cleaning procedures and replace them with drier cleaning techniques, like the use of centrally laundered pre-impregnated mops and the wide application of appropriate machines. This makes work more effective and easier for the cleaning staff, and minimizes environmental impact. Less cleaning chemicals and less fresh water are used. This is possible if our xf² surface finish is applied and maintenance protocols are correctly applied : no polish and wax are needed.
How much is linoleum ?
When choosing the right flooring, of course, the price also plays an important role, because after all, the demand covers almost the entire floor space of a building.
The quantity and design characteristics need to be considered in order to define a price.
Basically, the price will be defined by the number of square meters you need flooring for, to which you need to add accessories and installation material
However, with regards to the longevity and easy care of the product, the initial investments pay off again over the years, mainly due to savings in cleaning costs.
Thanks to our xf² surface treatment, the maintenance of Linoleum is made easier and – following cleaning and maintenance recommendations- it may require less water, electricity and detergent:

3% less water usage - 7% less electricity usage - 20% less detergent

 
Where can I buy linoleum ?
Thanks to the increasing environmental awareness, linoleum floors enjoy a surge of popularity.
Made in Italy, Tarkett Linoleum products are available all over the world.
As a floor covering that requires a professional installation, linoleum is available through the specialist publisher and wholesaler.
You can also ask for a quote and order a sample via our website. As a rule, you will also receive good expert advice and tips for later cleaning and care of the linoleum.
Furthermore, some selected online shops offer Tarkett's linoleum.
When should linoleum be renewed ?
There isn't a unique answer to that question.
The longevity of a linoleum floor will depend on whether it has been given the right care and the strength of the source material as well as the heavy loads.
A neatly laid and properly maintained linoleum floor holds 20 years and much more.
In many historic buildings, the floors are preserved to this day and thus give a good  example that choosing durable materials pays off in the long run.
Linoleum, a material for the future
Linoleum is a material full of surprises. Anyone who takes an interest in the linoleum success story is bound to discover that the material is quite versatile. Around the globe, linoleum can be found on floors as well as on walls and furniture.
A traditional material that lasts a long time and retains its timeless character even over centuries. The mere fact that chic design and robustness can be combined on a natural floor is sufficient for the emergence of renewed and keen interest in Linoleum.
As regards sustainability and the use of natural and renewable materials, Linoleum has very strong credentials. Linoleum flooring proves to be robust, easy-care, durable and can be specially adapted to each building.
 This once again speaks in favour of this traditional yet modern flooring that will remain an environmentally friendly flooring option in the distant future.