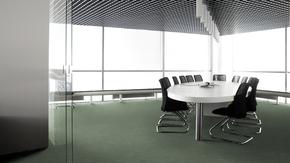 Key features
Timeless marbled patterns in 60 colours
Slip-resistant grip
Easy maintenance: no wax or polish for life
Natural and sustainable
Naturally bactericidal properties
One of the most natural and sustainable flooring solutions on the market, Tarkett linoleum has been appreciated for its beauty, comfort and durability for over 150 years. Our Veneto Sicuro xf²™ collection offers a secure grip, making it an ideal flooring solution for areas requiring slip-resistance such as entrances. It is treated with our unique xf²™ surface protection for extreme durability, easy cleaning and cost-effective maintenance.
It is offered on request in all 60 Veneto colours.
Get inspired by our colorful Linoleum flooring collections
Linoleum flooring at its best
Watch our video on Linoleum, its rich history and heritage, sustainable DNA, and beautiful contemporary colors that make it inspiring for all.
Technical and environmental specifications