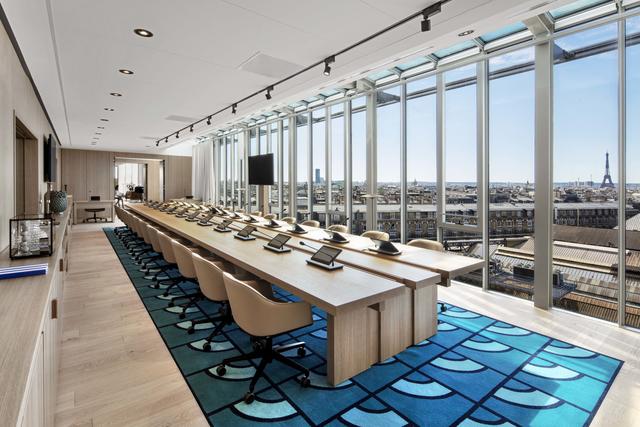 Pernod Ricard Headquarters
2020 | Paris, France
Located near the Saint Lazare train station, in the heart of the 8th arrondissement of Paris, is the new global headquarters of the Pernod Ricard Group, also known as The Island. This site, brings together all of the group's 900 employees, previously spread out over seven different locations.
The new headquarters of the Pernod Ricard Group is named The Island, in reference to Île des Embiez, acquired by Paul Ricard in 1958.
With the onset of Covid-19, the professional world saw an increase in home office, which inspired Saguez-Partners to design multi-use offices that are friendly working spaces, where connections among colleagues are easily formed. "A well thought-out office is a space that contributes to communication, encourages encounters, provokes experiences and welcomes unexpected events."
Based on this concept, Saguez-Partners worked together with the Pernod Ricard Group to create a professional environment with as many open spaces as working spaces. Designed as a flex office, the work areas are luminous, face the windows and are shared by different individuals, throughout the day.
"The idea is that spending time in the office should be more enjoyable than time spent at home! The challenge is no longer to create individual spaces, but collective spaces that are adaptable to different uses." Olivier Saguez, Designer
For these new office spaces, Tarkett provided floor coverings for a surface area of more than 13,000 square meters. In line with their design concept, Saguez-Partners chose carpet tiles for the work areas and conference rooms, because they delineate spaces and contribute to a calm, warm and welcoming ambiance:
Desert range: A warm grey colour was chosen for the work areas and hallways, in order to create an impression of openness and space. This textured carpet tile has a subtle organic design that contributes to a serene ambiance.
Arcade range: Two colours, a dark blue and a rich brown, were selected for the conference rooms, in order to create a lavish look. With its high voluminous cut pile structure, this textile floor offers softness and comfort.
 
Tarkett provided 560 square meters of its Axminster textile floor covering, which was installed in 22 separate work areas and conference rooms by Actisol, the installation company. Axminster is a woven carpet, with great acoustic and walking comfort, that can come in existing or custom-made designs. Since it can be easily matched with different materials, in order to create colourful combinations, Saguez-Partners and the Pernod Ricard Group chose to create 25 different designs in 15 different colours. Three carpets, were also fabricated for the reception area on the first floor. Lastly, for high-traffic areas Tarkett recommended its vinyl ranges –Tapiflex Staircase range for the stairs and iD Square modular vinyl range for the mail reception and infirmary areas.
 
Photos : Frédéric Baron-Morin & Eric Laignel
 
Making conscious choices. For people and the planet.
Tarkett Human-Conscious DesignTM
About
Read more about our beautiful commercial flooring installation in Pernod Ricard's headquarters with DESSO carpet tile collections Arcade and Desert.
Designer/ Architect
Saguez and Partners
Building owner
Pernod Ricard