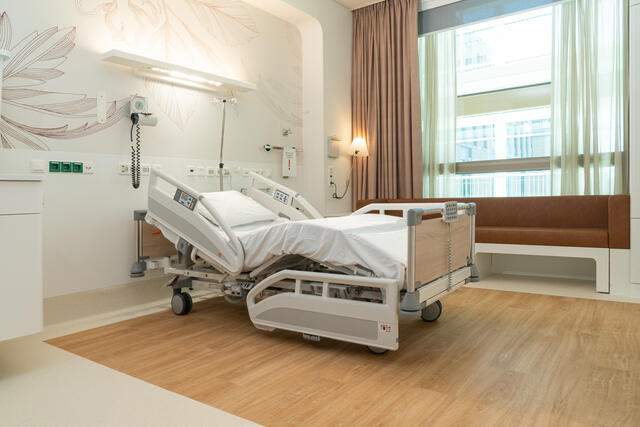 Radboud UMC
2023 | Nijmegen, Netherlands
Sustainable, Innovative and Healing Environment
Education, research and care leads to more efficient healthcare processes, more patient autonomy and a more sustainable, innovative and pleasant healthcare environment. At the newly renovated Radboud UMC campus, the hospitable and calming atmosphere contributes to patient recovery and provides a pleasant working environment for healthcare staff.
Stylish, Hygienic and Resistant to Intensive Traffic
The innovative Aquarelle Wall HFS offers a stylish and hygienic environment for optimal functionality and seamless integration with the floors. The different colours used, clearly distinguish the toilet and shower from the rest of the space.
The Granit Safe.T safety floor was subsequently chosen for the wet areas. This homogeneous vinyl floor offers excellent slip resistance, which drastically reduces the risk of accidents. The Safety Clean XP surface treatment also makes the floor stain resistant, easy to clean and very easy to maintain.
The Acczent Excellence 80 in a wood design used for the patient rooms, offers a calm, pleasant and homely ambiance. This flooring is also resistant to heavy traffic, such as the intensive transport of nursing beds.
Making conscious choices. For people and planet.
Tarkett Human-Conscious Design®.
About
Discover Radboud UMC, a sustainable, innovative and pleasant healthcare environment, designed with Tarkett's heterogeneous and homogeneous vinyl floors.
Designer/ Architect
EGM Architecten