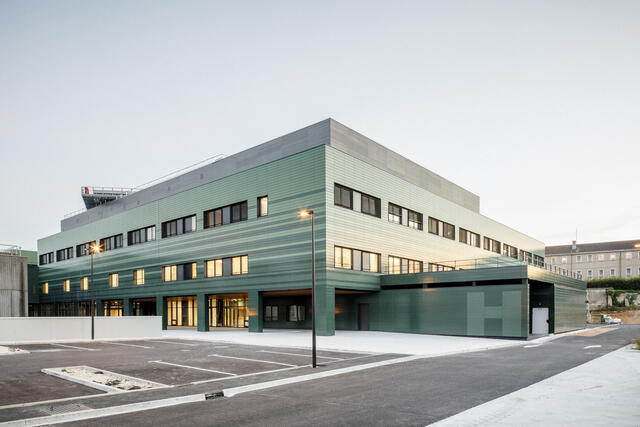 New hospital in Fontainebleau, between city and forest
2022 | Fontainebleau, France
The new hospital is surrounded by a forest-like garden. Nature is everywhere – large openings facing the outside, trees that bring in natural light, a green ceramic facade that blends well with the garden, wooden floors and green spaces. This natural and welcoming environment, designed by the Brunet Saunier Architecture agency, helps reduce stress and increase well-being, for the patients and hospital staff alike.
The architect wanted to make the hospital more welcoming and less like a healthcare center. He designed the rooms and corridors to feel more like a hybrid between a home and a hotel, by using soft and warm colours.
Tarkett is very proud to have contributed to this project, "Our ambition is to provide technical and design solutions that are in line with today's needs in order to help build the hospitals of tomorrow".
How does the Fontainebleau project illustrate Tarkett's approach to improving the user experience?
For this project we provided the following floorings for their specific benefits:
What were the major challenges of this project for Tarkett?
This 16,000 square meters project had many technical, regulatory and logistic requirements that needed to adhere to an environmental approach. Thankfully, collaborating with the architecture agency Brunet Saunier Architecture helped us successfully meet all of these challenges. More specifically we concentrated on the following areas and equipment:
5 operating theaters

105 rooms - 80% of which are individual

50 day-hospitalization areas

12 beds in the intensive care unit and 6 beds in the continuous care unit

State-of-the-art technical equipment, including a scanner, an MRI, 3 conventional imaging rooms, 3

ultrasound rooms and a mammography room.
Photos: Florent MICHEL
Making conscious choices. For people and planet.
Tarkett Human-Conscious Design®.
About
Discover the new Fontainebleau Hospital, with its warm and welcoming atmosphere, covered in Tarkett's unique and nature-inspired floor coverings.
Designer/ Architect
Brunet Saunier Architecture
Building owner
Centre hospitalier Sud Seine et Marne 77, site de Fontainebleau