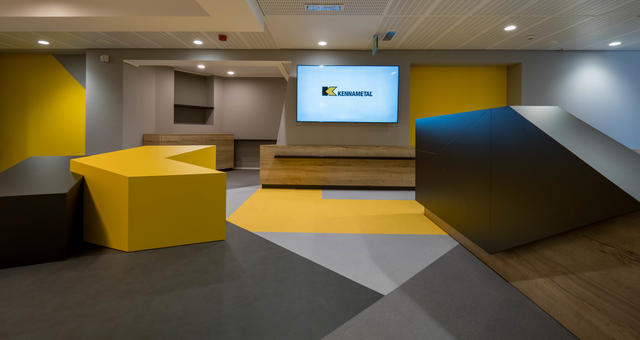 Kennametal New Offices
2021 | Milan, Italy
Kennametal Italia, the Italian branch of Kennametal Inc, is the international leader of supply, design and manufacturing in the metal cutting industry.   
The company worked together with the architecture studio, Il Prisma, to entirely renovate its offices in Milan. Thanks to the studio's design expertise and attention to detail, they were very happy with the results.
They chose different textures and finishes, using wood and fabric effects, from Tarkett's iD Square collection. Everything was perfectly mixed and matched with the walls and furnishings, to create a fluid and harmonious look that was especially unique thanks to the non-standard, tailored formats provided by Tarkett.
The iD Square collection is 100% recyclable, made without phthalates, has a high acoustic performance and is ideal for the workplace, since it guarantees an excellent indoor air quality, thanks to very low VOC emissions.
Making conscious choices. For people and planet.
Tarkett Human-Conscious DesignTM.
About
Discover Kennametal Italia, designed with Tarkett's ID Square flooring, a rich collection of different textures and colors that create a modern, chic and harmonious look in the workplace.
Designer/ Architect
Architecture Studio Il Prisma
Building owner
Kennametal Italia