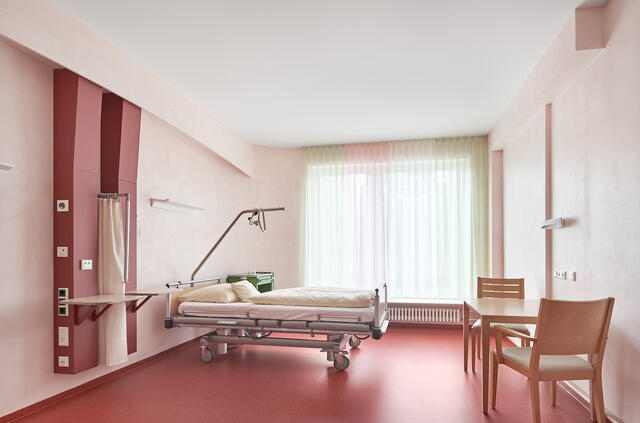 Klinik Öschelbroon
2021 | Öschelbroon, Germany
The Klinik Öschelbroon is an award-winning, non-profit acute care hospital, recognized for its integrative oncology department, pain and palliative care and its anthroposophic-based medicine.
The new building was completed in 2021 and particular attention was paid to the colour design, which was intended to be therapeutic and to support the healing process for the patients. Additionally, the corridors were designed to provide the staff with a peaceful environment, so that they can think clearly and calmly, in order to prepare for each patient.
Yellow: The exterior of the building, the reception area and the administration rooms.

Green and blue: Other floors

Red: The private wards
In total, approximately 5,700 square meters of Tarkett's iQ Granit (homogeneous vinyl flooring) and 450 square meters of Tarkett's Veneto linoleum were installed throughout the hospital. The floors were not only selected for their compatibility with the overall ambiance of the hospital, but also for their long-lasting durability.
Making conscious choices. For people and planet.
Tarkett Human-Conscious Design®.
About
Discover the colour-based design of the new Klinik Öschelbroon building with its new Tarkett vinyl and linoleum floorings.
Designer/ Architect
Roger Strauß Architekturbüro, Karlsruhe