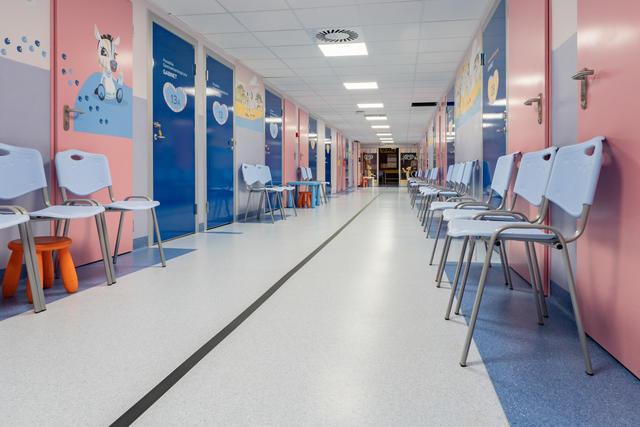 Ophthalmology and Gastroenterology Clinic Children's Memorial Health Institute
2021 | Warsaw, Poland
Ophthalmology and Gastroenterology Clinic - following the child's train of thought
The Ophthalmology and Gastroenterology Clinic project marked the beginning of our collaboration with the Institute. Our task was to coordinate the colour scheme. Katarzyna decided on a quite unusual combination for hospital interiors - fire doors and office doors were to be in shades of blue and powder pink. The Pink attracts the most attention - it has a warm glow and is associated with tenderness and softness, bringing in a lot of positive energy.
The most important consideration when developing the project was to use design in such a way as to evoke positive emotions in patients. Together with Medical Design Studio, responsible for the wall decorations, Katarzyna introduced young patients to a fairy tale world that encourages exploration, entertains children, and allows them to relax before visiting doctors' offices. Decorations, such as zebra tracks on the walls and doors, invite children to interact with the space around them.
Once again, we used the durable and wear-resistant iQ Granit heterogeneous vinyl flooring for rooms with intensive traffic. Its particular advantage is easy cleaning and maintenance - the floor does not need to be polished or waxed, and dry polishing is enough to restore its original appearance. iQ Granit guarantees effortless fitting of accessories. Choose from acoustic, electrostatic dissipative, and slip-resistant versions.
Making conscious choices. For people and planet.
Tarkett Human-Conscious DesignTM.
About
The design of the Clinic allows children to relax before visiting the doctors' offices. Unusual for hospital spaces, the colour combinations and clever decorations take centre stage.
Designer/ Architect
Katarzyna Klimek, Floor Design Manager CEE
Building owner
Children's Memorial Health Institute in Warsaw