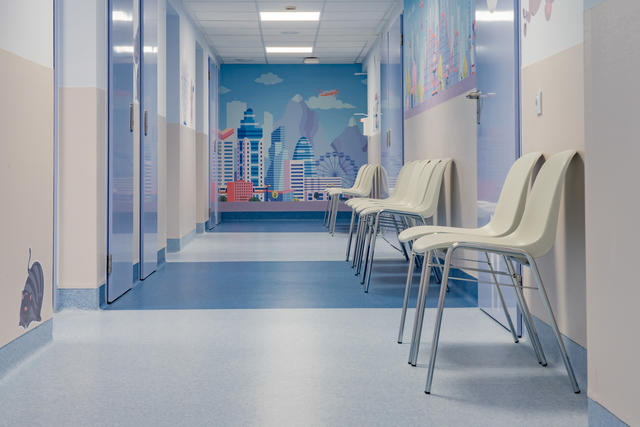 Kidney Transplant Clinic Children's Memorial Health Institute
2021 | Warsaw, Poland
Renovating the Kidney Transplant Clinic
The Kidney Transplant Clinic at the Children's Memorial Health Institute in Warsaw is a place that provides care for patients after kidney transplantation, as well as patients on peritoneal dialysis. The interiors of the Clinic are a permanent part of the everyday life of the young people visiting it.  The Clinic and its wonderful staff have already treated 833 patients, 756 of whom underwent transplantation at the Institute. Until recently, the waiting room corridor and doctor's offices of the Clinic were not comforting spaces to spend time in - the spaces seemed narrow and dark. Our mission was to change that! Waiting for appointments and test results should become more pleasant and generate as few negative emotions in young patients as possible.
Our Floor Design Manager, Katarzyna Klimek was responsible for the concept and functional layout. The main theme of the Clinic is a vibrant city and a funfair full of attractions - it was important that both young and older patients feel comfortable with the new design. People who come to the clinic at a young age are often treated there until they reach adulthood, at which time they are transferred to facilities catering to adults.
It was equally as important to achieve the effect of visually extending the space of the clinic - dark stripes on the floor create rhythm and, like the wall at the end of the corridor, are strong accents that shorten the long room. Soft shades of blue and lavender introduce a calming atmosphere, and, when combined with the right lighting, make the room appear more spacious and brighter.
For this project, we were certain that our iQ Granit heterogeneous vinyl flooring, which provides high durability and resistance to wear and tear and performs exceptionally well in rooms with heavy traffic would be up to the task. There is no need to polish or wax the floor surface - dry polishing is enough to restore its original appearance. iQ Granit has a wide range of matching accessories, and is available in acoustic, electrostatic dissipative, and slip-resistant versions.
Making conscious choices. For people and planet.
Tarkett Human-Conscious DesignTM.
About
Read more about Children's Kidney Transplant Clinic project that prioritizes the wellbeing of young patients and the comfort of medical teams.
Designer/ Architect
Katarzyna Klimek, Floor Design Manager CEE
Building owner
Children's Memorial Health Institute in Warsaw