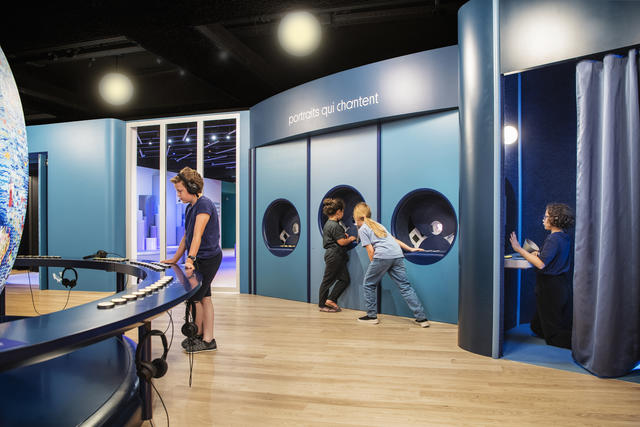 La Philharmonie des Enfants
2021 | Paris, France
The Philharmonie de Paris, located in Parc de la Villette, officially opened the Philharmonie des enfants on September 29, 2021.
It is a welcoming and joyful space of 1,000 square meters, intended for children from 4 to 10 years old. The space is a playful source of stimulation for the senses, offering edutainment content via technological innovation, and the use of sound and music.
From beginning to end, the creative and design process lasted over three years and was led by Constance Guisset, well-known for her scenography and interior design work.
"For the different parts of the space, I wanted to create an open, abstract area where identifiable spaces do not exist. By creating suggestive areas instead of defined ones, children can imagine and feel things in their own way. For the décor, I decided to use colours and shapes that are fun and accessible, but not childish. In general, I wanted to design a place that encourages children's imagination through a unique experience."
A scenography inspired by Atelier Tarkett
Constance was inspired by Tarkett's diverse choice of products and colours found at the Atelier Tarkett, but she was also impressed with the technical and environmental qualities of the products.
For the Philharmonie des enfants, she chose nine references from the Tapiflex Excellence and Platinium collections. These collections consist of heterogeneous acoustic floor coverings with an intermediate foam layer that reduces sound transmission and absorbs shock. Additionally, they are durable, easy to maintain and comfortable. They are 100% recyclable, 100% phthalate free and they emit very low VOC emissions, providing all visitors with good air quality. Lastly, she chose a variety of different Tarkett vinyl materials for the furniture.
About Constance Guisset
Constance Guisset founded her studio in 2009. She specializes in design, interior architecture and scenography, and sometimes she illustrates and writes children's books. She is especially known for her scenography work on ballets by Angelin Preljocaj, and exhibitions for the Musée des Arts Décoratifs and Palais des Beaux-Arts, Lille. Several exhibitions dedicated to her work have been presented in France and Lausanne, as well as a future exhibition in 2023, at the French Institute in Milan.
photographer : © William Beaucardet
Making conscious choices. For people and planet.
Tarkett Human-Conscious DesignTM.
About
Discover how Tarkett's floor covering creates a playful space for children to explore technological innovation through sound and music at the Philharmonie des enfants.
Designer/ Architect
Constance Guisset