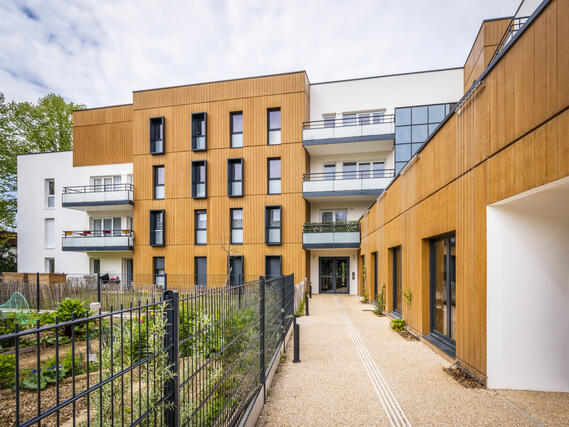 Les Quatre Saisons - A social and participatory housing project
2021 | Rouen, France
Les 4 Saisons – A social and participatory housing project 
The new residents of the social and participatory housing project, Les 4 Saisons, located at the Grand Mare in Rouen, were finally able to enter their new home in March 2021. The housing complex is composed of 35 apartments, with 26 for rent and 9 for sale. The common areas, shared amongst the residents, include a common room, two studio spaces to host family and friends, a DIY workshop, a laundry room, a large shared garden where everyone cultivates their own plot and connected mailboxes. The project received the French HS2 label for the accommodations and services it offers to the elderly, as well as the ANRU Grand Prix 2018 and Living Better, Living Well Together awards. This is the first time in France, that a housing project received two awards by the S'engager Pour les Quartiers, a competition that hosts 250 competing projects.
It was endorsed by the city, from the start, as well as an association, specifically created for this project, called Bien Vivre et Vieillir à la Grande Mare (BVGM), literally translated from French to mean Living and Aging Well at the Grand Mare. This association played a major role in the development of the project – it organized workshops, helped choose the colours for the different spaces, and even has its main office located in the residence, since it is very involved in the everyday lives of the residents and the shared spaces.
Here is a quick Q&A with Mr. Fabien Garcia, the Director of Programs at Logeo Seine, the social housing company that led the project in collaboration with BVGM: 
What is the main objective of this project?
The goal of this housing complex is to create an intergenerational living community, where there is constant social interaction between the residents (aged 30 to 86), that is convenient, as well as practical. Logeo Seine, guarantees that the location of all day-to-day services – pharmaceutical, medical, food, shopping, etc. – can be found nearby, including bus stops and the main train station (all less than 5 minutes away).
Is this type of housing project common elsewhere?
This project is one of a kind. Our experience with the residents confirms that there is a real interest in this type of living situation. They are completely devoted to the development of their apartments and they feel good and invested in their home. So, naturally they will want to stay here in the long run, which is our goal – long term renters.
Today the housing sector has changed. In the past, future renters would visit one or two apartments maximum before renting. Today renters will visit up to five places in a day, since there are more spaces available. Understandably, the landlord who offers the best quality, service and advantages will rent faster.
How did you select the residents?
Those who initially participated in the creation of the project, were given priority, because of their collective spirit and we accepted files that were directly sent to the housing committee for selection, based on specific financial and living criteria.
What is intergenerational living?
It is above all a relationship based on trust and respect. Elderly residents help parents with young children, almost like surrogate grandparents. For example, they can pick up the children from school and help them with homework and in return, the younger residents lend a hand with errands around the house.  
Why did you choose Tarkett floor coverings?
We have a long-standing partnership with Tarkett for two simple yet very important reasons – the lasting durability and quality of their products.
When the project was first mentioned to the salespeople, we urgently needed some samples and thanks to Tarkett's reactivity, they were provided in 48 hours. The total time frame of the project was six years, and during that time we always felt supported and heard by the Tarkett teams, who were very responsive and attentive to our needs.
Why choose flexible floors in rolls?
Usually, we prefer working with Tarkett's tiles or planks (TX Modulaire), since they are flexible and can be easily removed. However, for this project, we took a different approach. Since the housing complex is called Les 4 Saisons (The 4 Seasons), we created four levels, each of which are in a different colour that corresponds to one of the four seasons. We chose the flexible floors in rolls range, because of its large variety of colours. Tarkett's soft floors, TX Modulaire and Tapiflex Excellence, were installed in all the apartments and common areas, but the DIY workshop is covered in Tarkett's ID Inspiration Loose-Lay.
About Logeo Seine
Logeo Seine is a social housing company that produces 700 new homes and renovates 800 existing ones, every year. They provide unique and innovative solutions to renters and homeowners based on the diverse needs of every city. They cover all types of affordable housing, for example, state-subsidized housing, social acquisition, social property management, etc. The 420 employees bring to the residents of over 25,000 homes a positive, innovative and responsible business model that:
Offers real estate solutions and services that promote new housing styles

Proposes a new and unique client service, where resident participation is key

Challenges the sustainable development of its territories

Is committed to a strong and modernized social housing economy
Photographer: Briag Courteaux
Making conscious choices. For people and planet.
Tarkett Human-Conscious Design®.
About
Discover the new social and participatory housing, Les 4 Saisons, Rouen, covered in Tarkett's quality and durable floor coverings.
Designer/ Architect
Bureau 112