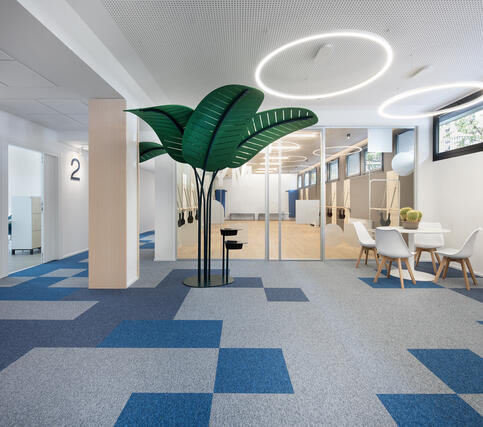 Cloe Giani Sports High School
2023 | Milan, Italy
The Cloe Giani Sports Scientific High School, located in Milan, Italy, offers students an excellent scholastic program, as well as an intense sports curriculum.
The school entrusted Brera 89, interior contractor, and Massimo Magaldi, architect and interior designer with the unique challenge of creating a space in the school that is both suitable for learning and sports.
Tarkett floors have proven to be the most suitable solution for such a project, thanks to its wide offer of different collections, and a vast selection of colors and designs.
An allover design from the iD Square collection was installed in the gym and a Tempra textile flooring, 50x50 cm square format in blue and gray colours was installed in the corridors and common areas. The Tempra textile flooring was selected for its noise reduction and walking comfort qualities, making it the ideal choice for the space. It is important to note, however, that both collections provide easy cleaning and maintenance.
Making conscious choices. For people and planet.
Tarkett Human-Conscious Design®.
About
Take a look at the new sports and learning space at the Cloe Giani High School in Milan, Italy.
Designer/ Architect
Massimo Magaldi