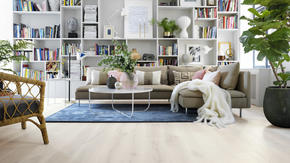 KEY FEATURES

Naturally rustic
Sustainably sourced and produced
Proteco Hardwax Oil
Long-lasting stability
Once upon a time raw oak materials were considered too rustic for flooring. Today this wood is treasured and the larger the cracks, knots and colour variations, the better! With our Heritage collection, wood grains are enhanced with brushing and staining and treated with a natural hardwax oil to emphasize the beautiful details that make each plank unique. The result is an attractive wood floor with a fantastic patina.
Our Parquet Magazine is available to present our trendy offer, and our Grading Book will provide a focus on the design.

TECHNICAL AND ENVIRONMENTAL SPECIFICATIONS