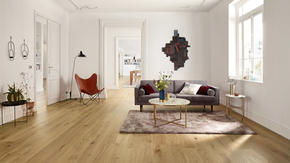 KEY FEATURES

Timeless authenticity of nature
Sustainably sourced and produced
Proteco Hardwax Oil or Lacquer
Long-lasting stability
The Pure collection celebrates the authenticity of nature by enhancing and preserving the timeless character of oak, maple, birch, ash and walnut wood floors. Rooted in quality, tradition and durability, the unique character of each wood species never goes out of style. Treated with either a matte or semi-gloss lacquer or a hardwax oil to protect each plank's distinctive grain and structure.
Our Parquet Magazine is available to present our trendy offer, and our Grading Book will provide a focus on the design.
TECHNICAL AND ENVIRONMENTAL SPECIFICATIONS