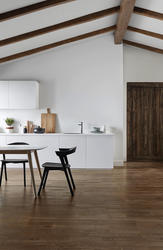 KEY FEATURES

Soft and natural colours
Sustainably sourced and produced
Proteco Natura
Long-lasting stability
From honey-tinged praline, stone grey, or antique white oak, the Shade collection highlights the warmth of wood through soft and natural colours for a cosy living environment. Explore this elegant selection of colour nuances to bring out the best in your interior. Treated with a matte finish to protect each plank's distinctive grain and structure.
Our Parquet Magazine is available to present our trendy offer, and our Grading Book will provide a focus on the design.

TECHNICAL AND ENVIRONMENTAL SPECIFICATIONS