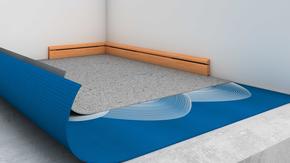 Tarkolay wet substrate underlayer
Tarkolay wet substrate underlayer
Key features
Ideal for damp substrates.
Cost-effective.Easy to handle and install.
Loose-lay solution with no damage to the substrate.

Tarkolay is an underlayer made from PVC coated glass fibre with studs in order to manage damp susbtrates. Tarkolay is a ready-to-use solution that can cope with up to a 7% humidity rate in the cement base, which makes for a cost-effective solution as it avoids having to dry the substrate. Tarkolay is also easy to install and remove, thus preserving the substrate. Tarkolay is suitable to be installed on wood or concrete subfloors and is compatible with heterogeneous and homogeneous vinyl rolls, both in residential and commercial applications.
Technical and environmental specifications