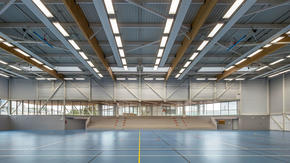 OMNISPORTS PUREPLAY (9.4 mm)
OMNISPORTS PUREPLAY (9.4 mm)
Key features
High performance for multi-sport facilities
Player protection (P2-compliant, EN 14904)
Greenlay® installation option
Cost-effective and easy maintenance
Contributes to improved air quality
Omnisports Pureplay (9.4mm) is a vinyl sports floor that provides optimal comfort and performance, and is P2-compliant under the EN 14904 standard. Approved by major sports federations, it provides extreme protection and optimal safety for high-performance multi-sports use (especially handball, basketball and volleyball) in middle school, high school and city hall gyms. It is treated with our trademarked Top Clean XP surface protection for extra durability and cost-effective maintenance. Installation options include our sustainable GreenLay® loose lay method.
Technical and environmental specifications
What paint do you recommend for Sports Flooring Line Marking?