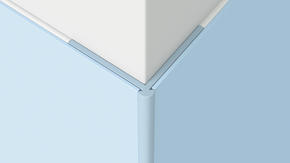 ProtectWall set-in corners
ProtectWall set-in corners
Key features
High protection of exposed corner.
Providing a perfect visual and neat finish.
Decorative corner.

Our set-in corners are flexible and solid PVC outside corners used to protect the external corner of walls against impacts. They need to be Installed and glued under the wall covering. The flexible outside corners are specially designed to cove over uneven corners and offer easy installation thanks to its flexibility.