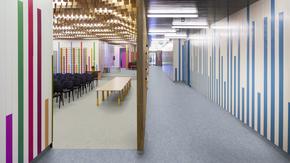 Key features
Timeless marbled patterns in 29 colours
Factory-applied acrylic finish
Gloss level adjustable by polishing
Natural and sustainable
One of the most natural and sustainable flooring solutions on the market, Tarkett linoleum has been appreciated for its beauty, comfort and durability for over 150 years. Our Veneto Essenza (2.5mm) collection is made from 96% natural raw materials and is available across a range of traditional marbled patterns in vivid and deep colours. It includes a factory-applied acrylic finish with a gloss level that can be adjusted by polishing.
Get inspired by our colorful Linoleum flooring collections
Linoleum flooring at its best
Watch our video on Linoleum, its rich history and heritage, sustainable DNA, and beautiful contemporary colors that make it inspiring for all.
Technical and environmental specifications