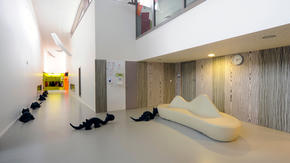 Key features
Naturally Bfl fire rating (no added flame retardants)
Superior xf² surface protection for extreme mechanical and chemical toughness
FloorScore certified
Silver Cradle to Cradle certified
Natural and renewable raw materials
Naturally bactericidal solution
Homogenous linoleum floorcovering made by one single layer calandered on jute backing. It is 2.5mm linoleum Bfl fire rating with no added flame retardant.Bfl by its natural ingredients (linseed oil, wood and cork flour, natural resins, pigments), it is ideal for escaping areas. It is offered on request in all colours for Veneto, Style Emme, Style Elle, Etrusco and Trentino.
Get inspired by our colorful Linoleum flooring collections
Linoleum flooring at its best
Watch our video on Linoleum, its rich history and heritage, sustainable DNA, and beautiful contemporary colors that make it inspiring for all.
Technical and environmental specifications